Battery Smart Secures $33 Million in Funding to Fuel Geographical Expansion and Customer Growth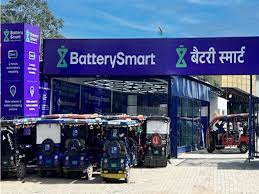 Delhi-based battery swapping network, Battery Smart, has successfully raised $33 million (equivalent to approximately Rs 272 crore) in a pre-Series B funding round. The investment comes from existing investors Tiger Global and Blume Ventures, along with the addition of two new investors, The Ecosystem Integrity Fund and British International Investment. Battery Smart plans to utilize the funding to bolster its geographical presence and expand its customer base by one lakh (100,000) by the year 2025. Currently, the company serves 25,000 customers across various Tier I, II, and III cities.
Battery Smart's Co-founder and CEO, Pulkit Khurana, expressed the significance of this investment in advancing the well-being of their station partners and drivers. He emphasized their commitment to empowering these stakeholders to play a pivotal role in India's transition toward electric mobility. Khurana stated, "This investment signifies our commitment to enhancing the livelihoods of our station partners and drivers, empowering them to play a significant role in India's transition towards electric mobility."
Devin Whatley, Managing Partner at The Ecosystem Integrity Fund, highlighted the impressive and sustainable growth enabled by Battery Smart's innovative business model. He expressed enthusiasm about the partnership, stating, "We are excited to partner with Battery Smart, a company whose innovative business model has enabled impressive and sustainable growth."
Battery Smart operates as a battery swapping network, providing a convenient and efficient solution for electric vehicle (EV) owners. By offering a network of strategically located swapping stations, Battery Smart allows EV drivers to easily exchange depleted batteries for fully charged ones, eliminating the need for lengthy charging times. This approach enables seamless and uninterrupted mobility, especially in areas where charging infrastructure is still under development.
The company's latest funding round is expected to support its aggressive expansion plans, enabling it to establish a more extensive presence across India. With the infusion of capital, Battery Smart aims to reach an ambitious target of one lakh additional customers by 2025. By expanding its reach and customer base, the company strives to contribute to the widespread adoption of electric vehicles and promote a sustainable future.
Battery Smart's battery swapping model has gained traction due to its convenience and efficiency, addressing the key concern of range anxiety for EV owners. Instead of waiting for their vehicles to charge, Battery Smart's customers can quickly swap their depleted batteries for fully charged ones, significantly reducing downtime and enhancing the overall EV experience. This approach aligns with the Indian government's push for widespread EV adoption and the development of charging infrastructure across the country.
The successful funding round reflects investors' confidence in Battery Smart's business model and growth potential. With Tiger Global, Blume Ventures, The Ecosystem Integrity Fund, and British International Investment as its financial backers, the company is well-positioned to accelerate its expansion plans and solidify its position as a leader in the battery swapping space.
As Battery Smart continues to expand its operations and customer base, it aims to contribute to the transformation of India's mobility landscape, promoting the adoption of sustainable transportation solutions and reducing carbon emissions. With the recent funding infusion, the company is poised to make significant strides toward its vision of revolutionizing electric mobility and establishing a cleaner and greener future.
ALSO READ: Varanium Group Achieves Initial Funding Close for Rs 250 Crore Maiden Venture Debt Fund
To get more updates, Follow us on Facebook, Twitter and Instagram.