Through hard work & dedication Chandni Devgan became the winner in Mrs India one in a million show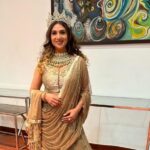 Dreams are not what you see while sleeping, but dreams are those which do not let you sleep and in fulfilling them, You take them with all your true hard work and dedication .Chandni Devgan, living in Dehradun, Uttarakhand who is the best example for those who say woman can't do anything without men.
Chandni has her own support behind her success. Recently the show of Mrs India One in a Million 2021 ( beauty pageant) was organized in New Delhi , In which Chandni Devgan had managed to win  two titles one is Mrs India One In Million (Second Runner Up )& other one is Mrs. Bold and Beautiful .While talking to the media, Chandni first thanked Mr.Prashant Chaudhary and Ms.Swati Dixit, both the organizers of the show for Giving me such a great platform where i am able to show my  Confidence and talent.
Chandni further said that my strength is both my children(Kabir & Saisha)because of them only ,I have been able to reach this point today, my children motivated me so much, so today it is because of them that I have achieved something  in my life .
When Chandani was asked how did you get so much confidence and how did you achieve this position while you manage your home , kids & work , Chandni -"when we transfer our weakness into strength then we can achieve anything in life ,It is not a difficult thing to do as I did the same with my strong will power by converting my weakness into strength and kept moving forward and achieved this success and made my name.  Chandni further added that I want to use this title to send a message to all other women that education,and if possible, higher education should be their first and foremost priority in life .
Chandni wants to be a role model for the younger generation and she will use this title to take an initiative for women , she is passionate about the fact that every girl should be educated to fly higher in life