"By providing crucial funding and support, Aeravti Ventures is set to ignite a wave of technological disruption, empowering early-stage startups to shape the future of industries."
Aeravti Ventures, an esteemed early-stage Venture Capital firm, has recently unveiled the successful first close of its groundbreaking Rs 100 crore fund, dedicated to supporting emerging tech startups. This strategic investment initiative aims to focus on sectors such as Deep-Tech, Deep-Sciences, Bio-sciences, Agri-Tech, Climate, and Enterprise Tech, primarily during the pre-seed to pre-series A stages.
Through strategic investments, aim to propel the next generation of innovators, unlocking boundless possibilities and transforming the startup landscape.
The fund will specifically concentrate on the Bharat region, with a strong emphasis on backing cutting-edge technologies throughout the country. Rishabh Singh, Managing Partner at Aeravti Ventures, highlighted the firm's vision in a statement, stating, "We aim to support technological innovations that have the potential to build transformative businesses."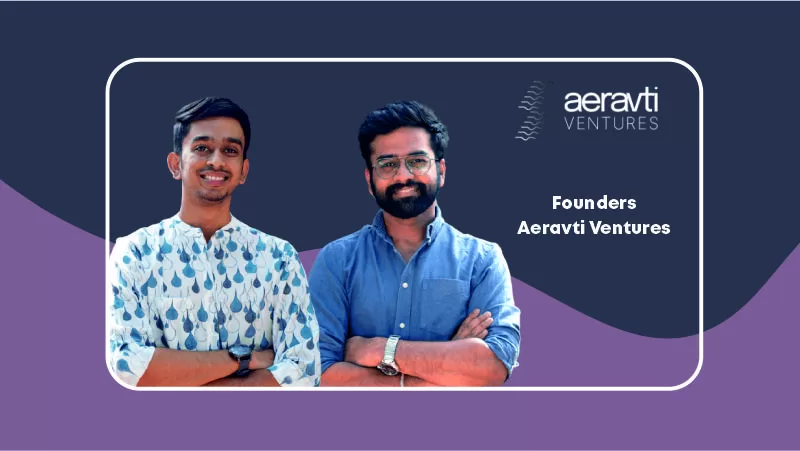 The Aeravti Ventures team is led by General Partners Rishabh Singh and Shubham Jhuria, and supported by over 25 Entrepreneur Partners (EPs), comprising Founders and CXOs from around the world. These EPs provide portfolio companies with valuable industry connections, strategic guidance, and technical expertise.
Rishabh, as an investor, has worked extensively with deep-tech ventures in Silicon Valley and Southern California through the incubator StartR. After relocating to India, he founded Capnetic Consulting Group, an early-stage investment banking and financial advisory firm.
Shubham, a chartered accountant, possesses extensive experience in auditing and conducting due diligence of early-stage ventures for funds and family offices. Prior to co-founding Capnetic with Rishabh, he worked in the corporate strategy team at Udaan.
Over the next two to two-and-a-half years, Aeravti Ventures plans to deploy its capital, demonstrating its commitment to providing significant follow-on investments to its portfolio companies. The fund has already invested in two promising startups in the Deep-tech and Supply Chain sectors, with further details to be disclosed shortly.
Shubham Jhuria, CFO and Partner at Aeravti Ventures, expressed the firm's comprehensive support for portfolio companies, stating, "We aim to be more than just financial supporters, providing a holistic ecosystem to our founders, including clients, industry access, partnerships, operational guidance, and more."
Aeravti Ventures follows an investment approach that values an integrated triple bottom line, considering the planet and its people. Rishabh explains, "We support businesses that create impact as an inherent function of their operations, having it baked into their business model, rather than as an externality."
When selecting investments, Aeravti Ventures places great importance on the founders of the company. Shubham elaborates, "At the stage that we invest, teams are small, technology is rapidly evolving, and business models are dynamic, which leads us to invest in people and not just their businesses."
Aspiring entrepreneurs seeking potential investment opportunities can reach out to Aeravti Ventures through the email ID and contact form available on the fund's website, or directly contact any of the General Partners via mail.
With the launch of its Rs 100 crore fund, Aeravti Ventures is set to make a profound impact on the startup ecosystem. By empowering early-stage startups, the firm aims to unlock their full potential, drive disruptive innovation, and contribute to the growth and advancement of industries. By actively seeking and investing in game-changing companies, the firm is set to push industry boundaries and drive innovation to new heights.
Read more: https://startupmagazine.in/laundrymate-founded-by-bigbasket-cofounder-secures-6-25m-in-pre-series-a-funding-led-by-blume-founders-fund/