Suniel Shetty, Bollywood Star, Commits Funds to Sustainable Tyre Startup REGRIP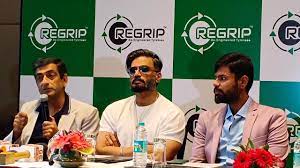 Mumbai, July 19, 2023 – Bollywood actor Suniel Shetty has recently made a significant investment in REGRIP, a Gurugram-based sustainable startup specializing in refurbished tyres. The innovative company boasts a reengineering process that utilizes high-quality rubber, producing economical tyres at a competitive price point, often at half the cost of new tyres.
REGRIP's approach to sustainability and cost-effectiveness has garnered popularity among small to medium-sized trucking companies seeking affordable solutions. Their commitment to refurbishing tyres not only offers safe, high-quality alternatives but also contributes to a greener future by reducing waste and maximizing each tyre's lifecycle. Suniel Shetty expressed enthusiasm about the new partnership, emphasizing the importance of embracing innovation and sustainable practices to create a better world for future generations.
Having previously received backing from its first investor, Mahavir Pratap Sharma, REGRIP's focus on refurbishing tyres has been hailed as a "win-win solution" for Sharma's investment portfolio. This early support highlights the potential and value that REGRIP's mission holds in the market.
Tushar Suhalka, the founder of REGRIP, elaborated on the brand's mission, stating, "Through our tyre refurbishment process, we strive to provide affordable solutions, reduce waste, and contribute to a greener and cleaner planet." The company's dedication to sustainability and environmental consciousness aligns with Suniel Shetty's own commitment to ventures that promote positive change.
Beyond his investment in REGRIP, Suniel Shetty has been actively participating in other entrepreneurial pursuits. Notably, he has invested in Klassroom Edutech, a hybrid tutoring education startup based in Mumbai, and The Biohacker, a healthcare venture. Additionally, Shetty has taken on the role of brand ambassador for food tech startup Waayu, further showcasing his interest in supporting innovative and impactful businesses.
Suniel Shetty's involvement with REGRIP brings attention to the growing trend of celebrities backing sustainable startups. As the world increasingly prioritizes environmental sustainability, such partnerships carry immense potential for driving positive change while making a significant impact in their respective industries.
REGRIP's innovative and eco-conscious business model, combined with the support of an influential figure like Suniel Shetty, is poised to make a lasting impact in the tyre industry. The partnership highlights the importance of sustainable practices and responsible entrepreneurship in shaping a better future for generations to come. With the combined efforts of visionary investors and forward-thinking startups, a greener and cleaner planet is within reach.
Also Read: Namita Thapar Reigns Supreme as Most Active Investor on Shark Tank India Season 1, Fulfilling 59% of Deals
Stay updated on the startup world with our Startup News and Funding News. Discover Founder Profiles, Startup Profiles, Founders Interviews, and Success Stories. Gain insights through in-depth articles and resources. Follow us on Facebook, Twitter, LinkedIn and Instagram. for regular updates and join our vibrant startup community.