Revoh Innovations: Powering India's Electric Vehicle Revolution with $425K Seed Funding Boost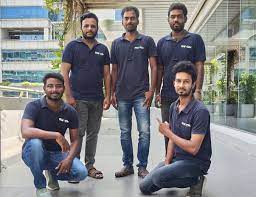 IIT-Madras Incubated Startup Raises Capital from Nexzu Technologies and Whiteboard Capital to Drive EV Sub-components Innovation
Revoh Innovations, an IIT-Madras-incubated startup specializing in EV sub-components manufacturing, has announced the successful completion of a $425K seed funding round. The investment comes from industry leaders Nexzu Technologies and Whiteboard Capital, bolstering Revoh's mission to develop cutting-edge products tailored to the evolving needs of the Indian electric vehicle market.
The newly secured funds will be utilized to expand Revoh's team and drive the development of specific EV components that meet the growing demands of the industry. With a focus on manufacturing products with higher power specifications and incorporating advanced features, Revoh aims to strengthen its position as a leading provider of efficient EV controllers. This latest funding round follows an earlier seed round where Revoh received support from angel investors.
Revoh Innovations stands out in the EV sub-components sector, leveraging state-of-the-art research methodologies and production techniques to deliver superior EV controllers compared to their domestically designed counterparts. By reducing reliance on imported sub-components and products, Revoh is at the forefront of revolutionizing the Indian EV sector. With a clientele of approximately 75 global entities, ranging from multinational corporations to startups, the company has garnered widespread recognition for its product quality and customization capabilities.
CEO of Revoh Innovations, Mr. Vignesh Durai, expressed his enthusiasm for the company's growth, citing the positive feedback received from clients and their dedication to delivering exceptional products. The funding will support the company's expansion plans, including the recruitment of skilled talents who can contribute to Revoh's ongoing success. Additionally, Revoh has plans to venture into the high-power controllers segment, further solidifying their position in the market.
With this injection of capital, Revoh Innovations is poised to make a lasting impact on the Indian EV sector. By promoting sustainable transportation solutions and driving the adoption of indigenous EV sub-components, Revoh is at the forefront of shaping the future of electric mobility in India.
READ ALSO: https://startupmagazine.in/homelane-raises-rs-75-cr-in-bridge-round-funding-sets-sights-on-profitability-and-expansion/