Chennai-based Consulting Startup KaarTech Secures $30 Million Investment from A91 Partners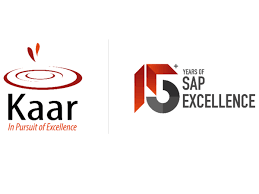 Chennai, India – KaarTech, a digital transformation consulting company based in Chennai, has successfully raised $30 million in funding from A91 Partners, a prominent investment firm headquartered in Mumbai. The investment will support KaarTech's ambitious plans for organic and inorganic growth in the Middle East, European Union, and North America. As part of the deal, Gautam Mago and Kaushik Anand from A91 Partners will join KaarTech's board of directors.
KaarTech, founded in 2006 by Maran Nagarajan, Ratnakumar N, Selvakumar M, and George Guardian, specializes in IP and digital services within the SAP ecosystem. The company has established a strong reputation for its expertise in discrete manufacturing, professional services automation, process manufacturing, and consumer packaged goods. With a team of over 2,000 employees, KaarTech has experienced remarkable growth, doubling its revenue over the past two years.
The strategic partnership with A91 Partners marks a significant milestone for KaarTech, aiming to accelerate its expansion plans and establish a robust presence in North America. Maran Nagarajan, Founder and CEO of KaarTech, expressed his enthusiasm about the collaboration, stating, "The partnership with A91 will catapult KaarTech into an unprecedented era of expansion, propelling us towards our aspiration of going public, despite our humble bootstrapped origins. This association will bolster our ability to expand geographically and augment our services portfolio inorganically."
KaarTech's vision is to become the preferred partner for customers seeking digital transformation journeys in areas such as SAP, cloud ecosystem customer experience, process automation, and data analytics. Nagarajan emphasized the company's core competence in logistics, supply chain, financial, and human capital management as key differentiators. By leveraging its deep expertise in these domains, KaarTech aims to provide comprehensive solutions to clients and drive their digital transformation efforts.
A91 Partners expressed their excitement about collaborating with KaarTech, stating, "We look forward to working closely with them in helping them expand their geographic presence in the US and Europe, and in their journey towards becoming a publicly listed company." The investment firm sees immense potential in supporting KaarTech's growth objectives and aims to contribute to their success.
With the funding secured and the strategic partnership in place, KaarTech is poised to accelerate its growth trajectory and achieve its long-term goals. The company plans to utilize the investment to expand its market reach, strengthen its service offerings, and pursue its vision of becoming a publicly listed company. Veda Corporate Advisors served as the exclusive financial advisor to KaarTech and its promoters, facilitating the successful funding round.
As KaarTech embarks on this new chapter of growth, the Chennai-based consulting startup is set to make significant strides in the digital transformation space, while further establishing its reputation as a trusted partner for businesses seeking innovative solutions in the SAP ecosystem and beyond.
ALSO READ: Apple Makes History as First Publicly Traded Company to Reach $3 Trillion Market Value
To get more updates, Follow us on Facebook, Twitter and Instagram.