French Crown Secures INR 8.6 Crore Investment from Velocity.in to Drive Innovation and Quality in Fast-Fashion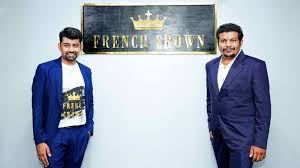 French Crown, a prominent fast-fashion brand, has successfully raised INR 8.6 crore through multiple funding rounds from Velocity.in, a leading revenue-based financier in India. The infusion of capital will play a vital role in fueling the brand's innovative designs and market understanding, challenging the notion of compromising quality in the fast-fashion industry.
Co-founders of French Crown, Ilesh Ghevariya and Bhavidip Ghevariya, jointly expressed their gratitude for Velocity's support and funding, recognizing its instrumental role in their brand's success. Through the strategic partnership with Velocity, French Crown has achieved a significant milestone, surpassing a valuation of INR 100 crore as a bootstrapped brand. This accomplishment showcases the brand's ability to thrive in a fiercely competitive market. Additionally, the partnership has facilitated investments in strategic marketing initiatives, leading to increased global brand visibility.
With a vision to revolutionize the fast-fashion landscape, French Crown has made significant strides in expanding its global reach, establishing a remarkable presence in more than 90 countries. The brand attributes its success to advanced forecasting algorithms and tailor-made, in-house inventory tracking management systems. By employing these tools, French Crown minimizes waste and optimizes inventory management, positioning itself as a trailblazer in the industry.
Atul Khichariya, the co-founder and COO of Velocity, commended the invaluable role played by Velocity as a growth partner in French Crown's remarkable journey. He highlighted French Crown's unwavering commitment to sustainability, showcasing the brand's ability to introduce over 200 new designs every week while upholding fair trade practices and minimizing environmental impact. French Crown achieves this by incorporating eco-friendly materials, adopting ethical manufacturing practices, and prioritizing transparency in its supply chain. These efforts have solidified French Crown's standing as an influential force in the conscious fashion movement.
The funding from Velocity not only strengthens French Crown's growth plans but also empowers the brand to challenge industry norms and deliver high-quality fast-fashion alternatives to consumers. As the brand continues to innovate and make strides in the market, it aims to redefine the perception of fast-fashion by offering unique, trendsetting designs without compromising on quality.
The investment received from Velocity propels French Crown on a trajectory of growth and global recognition, enabling the brand to further its mission of disrupting the fast-fashion landscape with sustainable practices and an unwavering commitment to excellence.
Also read
Micron Supercharges India's Semiconductor Ambitions with $825M Investment in Gujarat Chip Facility
To get more updates, Follow us on