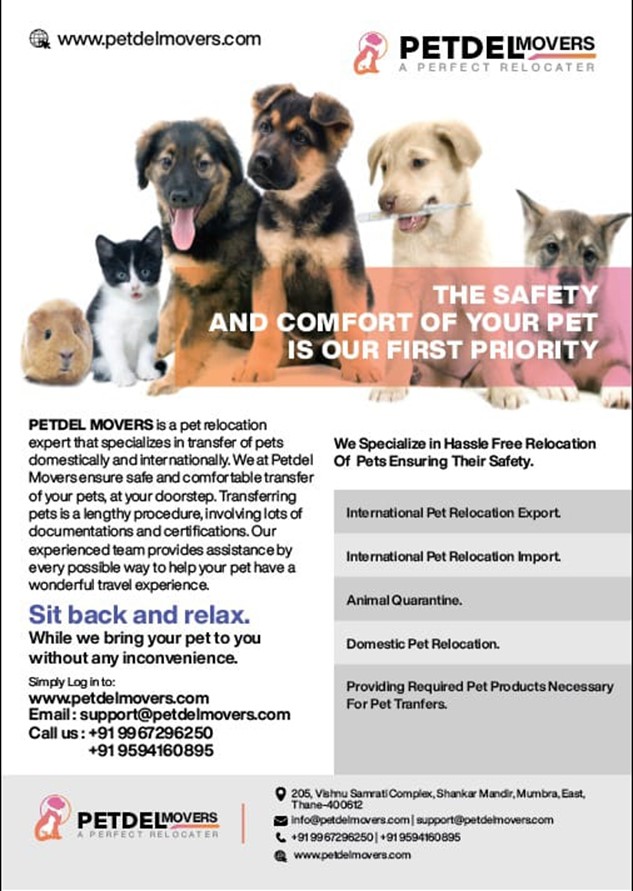 A pet is the only thing in the world who can love you more than yourselves. When we get a pet, we assume we will have it for as long as we can but factors like migration or shifting to a new city, town, or a country might become a barrier in that. But in modernly advanced times like today, transportation doesn't have to be a hassle for one's lovely pets!
Petdel movers, is evidently one such pet relocation service platform, which would make it easier for us to have our pets with us, or provide our pets and animals to be safely and easily be transported from one to another.
Based in Thane, Maharashtra this company was founded by Javed in 2021 to make pet relocation no more a hassle for pet owners and such. They provide a comfortable transport of animals such as dogs, cats, birds, rabbits, and guinea pigs through the three means of transport, i.e., via an aeroplane, train and by road.
Well, the question that lingers is, what makes Petdel movers different from that of other pet moving service providers, given that there are a lot of transportation services already available!?
To clear out the shadow of that, Petdel mover's pet relocation service advances in taking proper care of one's pets, with an all-in-one service for everything pet related, they provide pet products, pet boarding, pet quarantine as well as a comfortable space and environment for one's pet while travel. Their dog loving team of expertization, takes care of their client's pets as their own with one of the highest levels of dedication and care.
Their one-in-all platform has indeed lived up to their reputation for provisioning great quality service which is consistent, timely and efficient through their commitment towards their work for their pet clients. Not only that, Petdel movers has experienced an enormous growth in their company platform in such a short time, which has only been possible because of their excellent services and their vision to offer pet transportation services in India.
Therefore, one must no longer feel confused and worried about leaving their pet, for they won't have to, because of Petdel's movers trustable work and proficiency.